---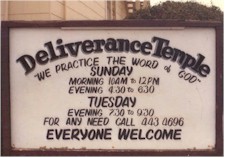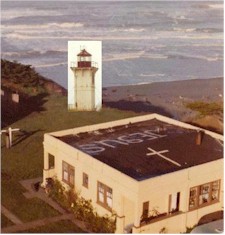 ---
Jim Durkin (1925-1996) — Gospel Outreach
The JPM story of Northern California centers on Jim Durkin, the leader of what became a collective of independent communes that associated under the name Gospel Outreach (GO). Durkin's personal journey began at Portland Bible Temple, a classical Pentecostal church, where he served on staff under Dick Iverson until a divorce cost him his position. Durkin claimed that from a very low point of despair, while he was alone and praying to God in a log cabin, Jesus spoke directly to him, telling him to remarry his wife Dacie and to go "Practice the Word" From there he moved on to pastor twelve elderly people at a church called Soul's Harbour. During a church prayer meeting in 1970, a woman at Soul's Harbour had a vision that the whole place would be filled with barefoot hippies worshipping God.
The remote and rural nature of Northern California differed from San Francisco and Southern California. As such it became the migratory destination for many "back-to-the-land hippies" who sought to restore the original hippie vision of pre-1967 Haight-Ashbury. Hippies purchased lands collectively, wealthy individuals donated properties, and religious organizations bought massive plots of land. And from 1967 to 1977 large numbers of youth journeyed to northern California to pursue what they believed would be a peaceful, and spiritual, utopian lifestyle in a commune.
In 1968, one such story began with German born Sabine Bell, who purchased 150 acres of land in Albion, California — simply dubbed "the Land" — as a commune for hippies to pursue their spiritual interests. In 1970, a visit to the Land by a Christian couple resulted in a few conversions and much controversy among the communards. Over the subsequent months more communards, including Bell, also converted. The commune changed its name to "The Lord's Land," and came under Durkin's leadership. Durkin found himself being approached by other communes in the region that had, in a similar way, experienced mass conversions and were seeking Christian teaching and leadership. In 1971, Durkin and about 30 others moved to a donated property just south of Eureka that housed an abandoned coast guard lighthouse. Renamed as "The Lighthouse Ranch", this property became the base of GO's operations, which at its height housed 320 people.
Durkin maintained a strong emphasis on Pentecostal spirituality, yet like many others who led outreaches to the hippies, he negotiated with the counterculture converts to forge a hybrid Pentecostalism. For example, Wednesday night chapel services at the Lighthouse were quiet times of reflection in which no talking or "vain babbling" was permitted. Communards were expected to wait on the Lord in silence while praying or reading the Bible. Or as James Jankowiak explained, "We practiced all the gifts of the Spirit, but we were not Pentecostals. The tendency of traditional Pentecostals in those days was to shout into microphones and holler, 'Jeeesssusss' -- and we were not having any of that"
Durkin believed that the communes needed to be financially self-sufficient, so GO communes engaged in small businesses from leather making to a donut shop, and the operation of a free advertising newspaper in Eureka called the Tri-City Advertiser. Also, Living Waters Reforestation was founded by Go to gain reforestation contracts with the U.S. Department of Forestry and private companies throughout the Pacific Northwest. Radiance Ministries was set up to promote Durkin's teachings by duplicating and distributing cassette recordings and by purchasing time on Christian radio to air his "Practice the Word" program.
Between 1972 and 1977, GO communal churches were established throughout California, Washington, Oregon, Alaska, Chicago, New York, Germany, England, and Guatemala. With the exception of a thriving work in Guatemala that functions under the name Verbo, much of GO is defunct and what remains in Eureka has taken on the name "Gospel Outreach Reformational Church".
Excerpt from the book: "The Jesus People Movement: A Story of Spiritual Revolution Among the Hippies" - By Richard A. Bustraan - Pages 81-83
---
Gospel Outreach was part of the "Jesus Movement" in northern California during the 1970's. Jim Durkin - pastor of Deliverance Temple in Eureka, CA - opened his church doors to the hippies that came to this area. Many, living at the Lighthouse Ranch on Table Bluff outside of Eureka, learned about what it means to be a follower of Jesus -- a DISCIPLE. During this time, churches were planted across the US and in other countries to spread the Gospel of Jesus Christ.
By 1972, Gospel Outreach Lighthouse Ranch had grown to almost 300 members. The group started attending a local Assembly of God church in Eureka called Deliverance Temple, and asked the minister Jim Durkin to lead Gospel Outreach. Within a few years, the Lighthouse Ranch sent out planting teams all over the world. Throughout the 1970s and 80's, missionary teams established churches in Palmer, Alaska, Chicago, Brooklyn, New York, Silverton, Oregon, Philadelphia, Germany, United Kingdom, Nicaragua, and Hawaii. With 100 affiliated churches worldwide, the Gospel Outreach network is one of the denominational legacies of the Jesus People Movement. One of the most important components of this legacy was the group's involvement in Guatemala. Former Guatemalan president Efrain Rios Montt attended Gospel Outreaches' Verbo church in the capitol city. He was called back to the presidency during a military coup.
Jim Durkin preached a pivotal message, "God's Purpose and Vision for Your Life". Jim also emphasized repentance, as in the need for a follower of Christ to experience a "turning away" from past wrongful behaviors (sins). This concept was readily understood by these young people who had recently identified themselves as "hippies". Jim practiced what he preached, as he himself was a compassionate, humble, encouraging and caring individual who emphasized the importance of considering the needs of others first, and the personal growth of each individual.
---
For those who found this website and do not know, the founder of Gospel Outreach, Jim Durkin, joined the Lord in glory on January 12, 1996 and Dacie Durkin joined him March 23, 2011. The Gospel Outreach churches that remain in Eureka, CA; Tacoma, WA; Olympia, WA and Portland, OR have become Gospel Outreach Reformational Church. The Lighthouse Ranch is no longer a Christian commune - it has been purchased by the state. The lighthouse has been moved to downtown Eureka and the cross has been taken down.